6 Extraordinary Paraphrasing Tools You Need to Know About
Posted
under

Uncategorized
Plagiarism is always a concern when creating any content. Even if you are not directly copying someone else's words, if you are using similar ideas and structure as another person, it can still be considered plagiarism. Furthermore, it is discouraged by google and other search engines which can lead to lower rankings and a potential loss of traffic. Therefore, it is important to make sure that your content does not lose its originality.
Though there is no such thing as a formal forfeit if the content is too similar, whether it is intentional or not, it would not be seen as well. Google pulls up the result that is best suitable for the search query and if that result is too similar to another, it will be disregarded. Chances are that your content will not be seen as original and it may be pushed further down in the search engine rankings.
To present your content as unique and make it stand out from the rest, it is suggested that you paraphrase the content. It can be a real hassle to paraphrase a large amount of content but you can always turn to a reliable AI paraphrase writer such as yaara.ai for help.
How is paraphrasing different from plagiarizing?
Paraphrasing is the process of rewriting or summarizing someone else's content while keeping the original core message and meaning intact. Plagiarism, on the other hand, is a form of stealing someone else's work and presenting it as one's own. Paraphrasing can be beneficial for improving the readability of the content and making it more relatable to the readers. It also helps in avoiding any potential plagiarism issues that might arise.
To ensure that your content is original and not plagiarized in any way, it is important to always cite your sources. Whenever you use someone else's ideas, words or thoughts in your content, do not forget to give credit to them.
Best paraphrasing tools that are just one click away!
There are a variety of online tools available today to help you with your paraphrasing needs. Following are some of the best ones:
Yaara
Yaara has a tool designed specifically for this purpose which can help you quickly form new sentences and phrases that have the same meaning as the original text. Yaara offers 42+ tones varying from authoritative, artistic, and descriptive to emotional, sad, casual, poetic and many more. You can also choose the level of complexity you would like the results to be. This feature makes it easy for you to tailor the paraphrasing tool to meet your content needs. Here is a simple guide to help you get started with the Yaara paraphrasing tool.
Go to Yaara Paraphraser AI, and simply paste the work you want to paraphrase.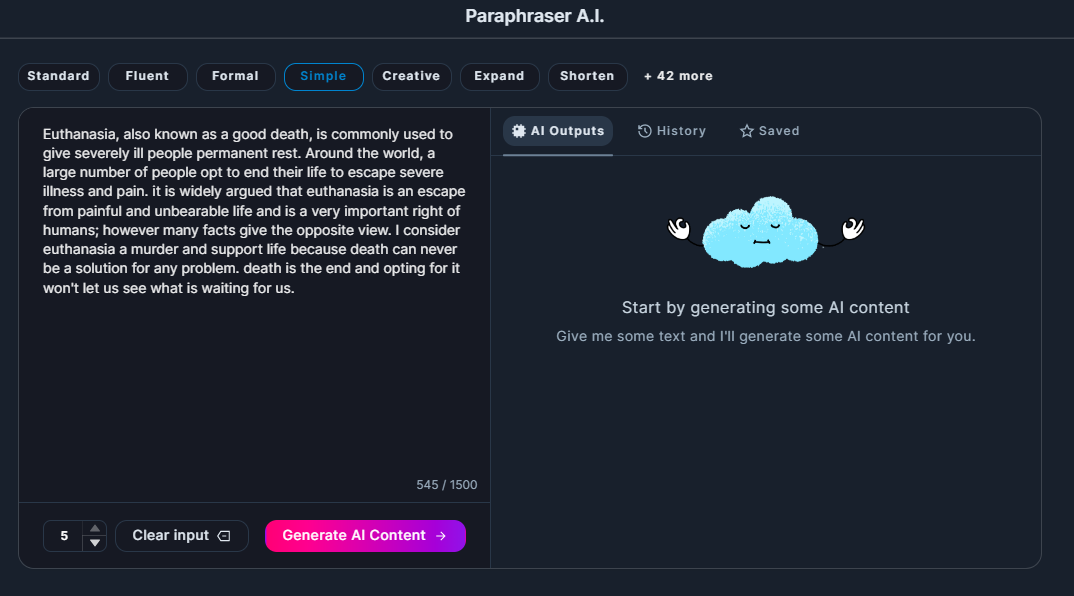 After pasting the text, you can choose the tone, complexity level, and other settings to customize the results according to your requirements.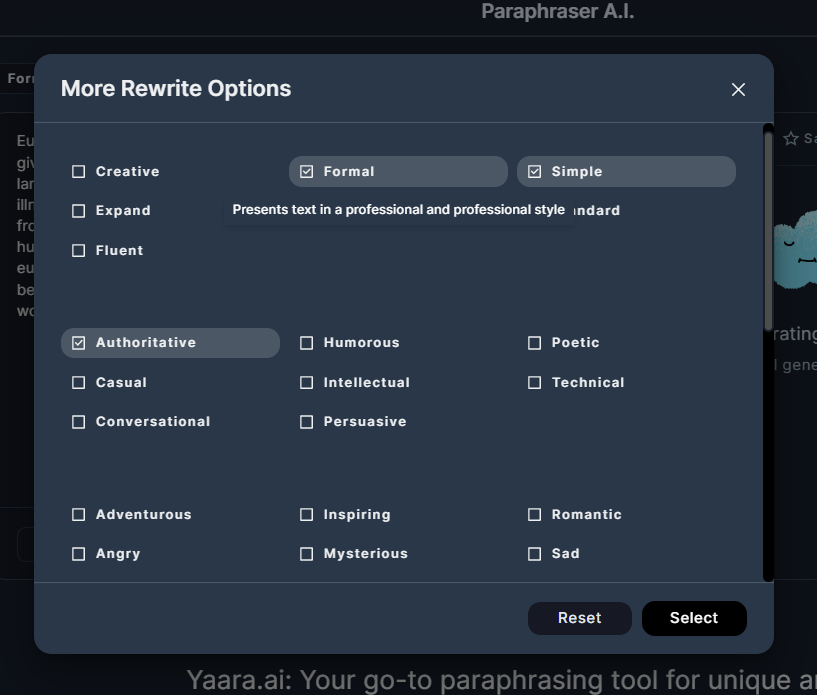 Click on the Generate AI Content and the tool will generate rephrased content within seconds.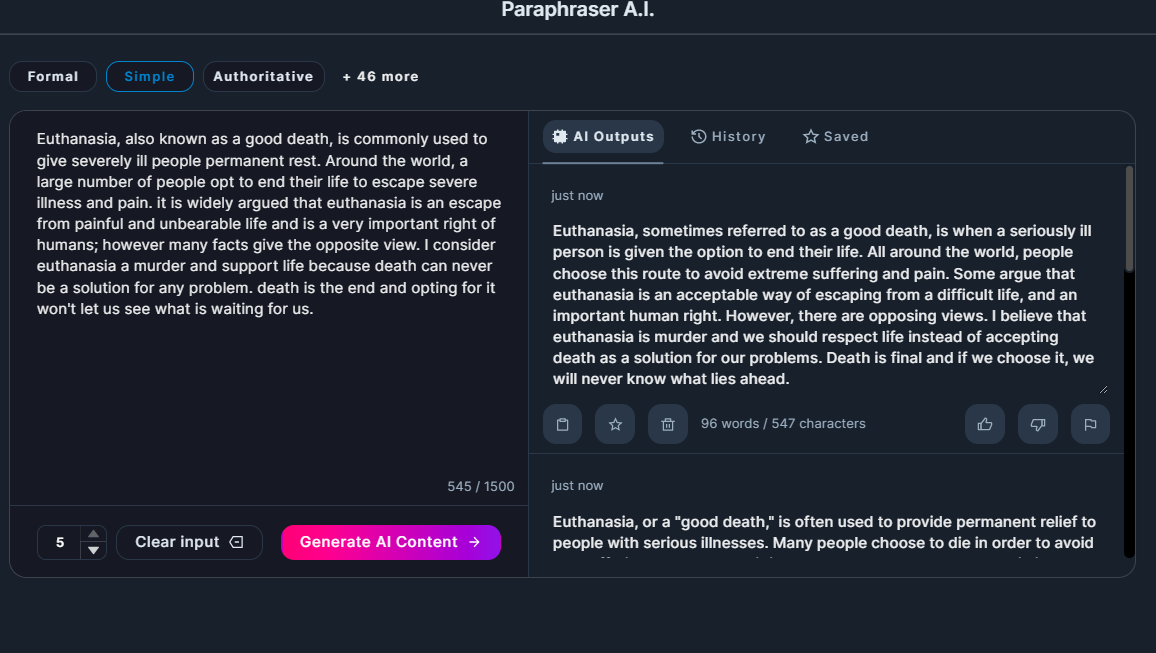 Finally, you can review, save, and make any necessary changes to ensure that the rewritten content is accurate and has the same meaning as the original.
With Yaara's paraphrasing tool, you can easily generate unique and plagiarism-free content without worrying about any copyright issues.
Paraphrase Online
Paraphrase Online is a free online tool that helps you to quickly any text. All you need to do is paste the text into the tool and click on 'Paraphrase'. You'll get the results in a few seconds with all the text rewritten in different words and sentences.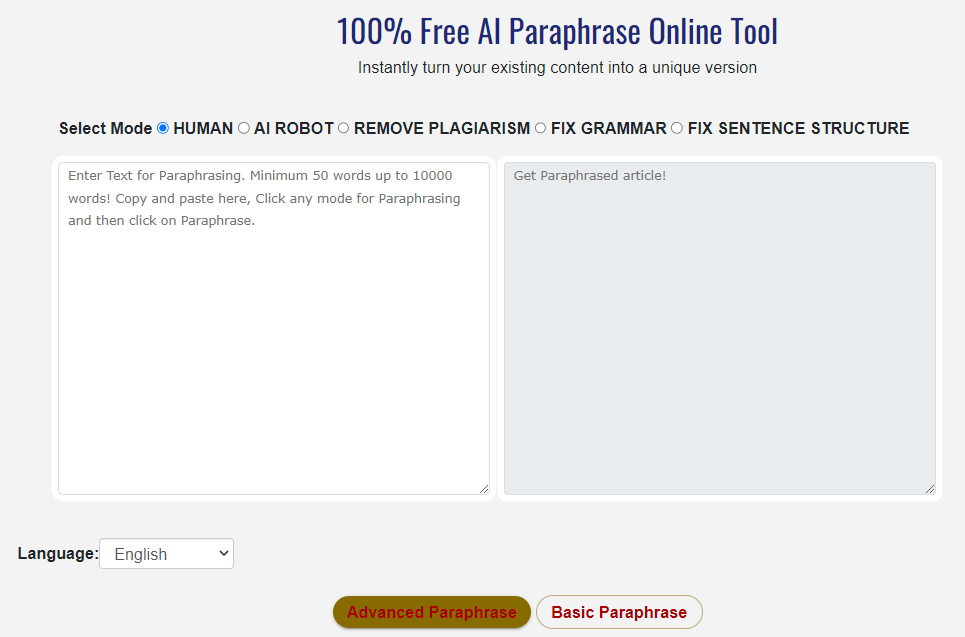 Paraphrase Online also has a convenient export feature that allows you to save the results in multiple formats. You can also choose the mode that suits your requirements, such as standard or advanced paraphrasing. This tool lets you input about 10000 words.
But it has its downsides, such as the lack of a tone and complex setting. It uses the synonyms provided by its database to rephrase the texts, and this can lead to results that aren't as accurate.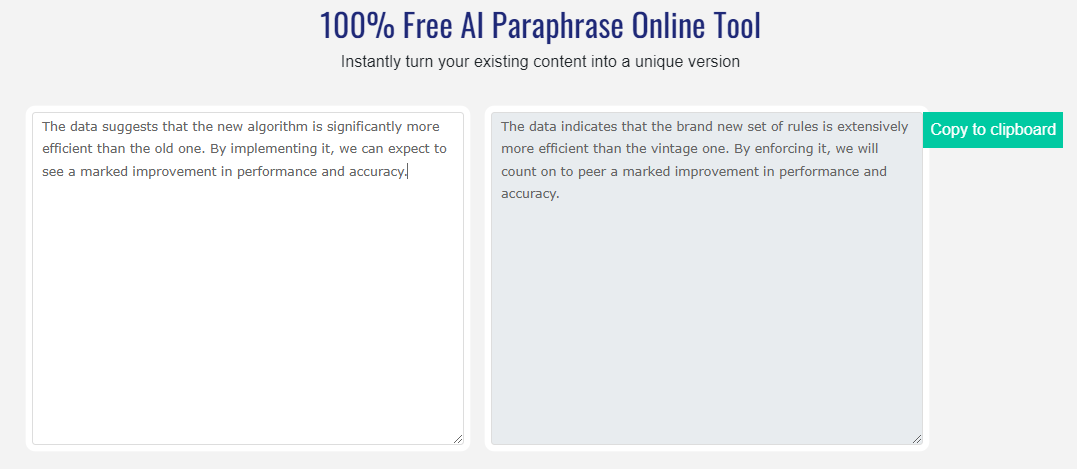 QuillBot
QuillBot is a powerful and intuitive paraphrasing tool designed with an AI-powered engine. This tool enables you to rephrase, rewrite and edit any text quickly and accurately. It provides a wide range of features including a tone-setting, custom synonym library, auto-summaries, and more.

It also comes with a powerful AI engine that helps you generate better results than other tools. It's very easy to use and supports text of up to 5000 words.
What distinguishes QuillBot from other paraphrasing tools is the color-coded highlights that help you identify the words and sentences that have been rewritten. This feature makes it easy to review and make changes to the content if needed.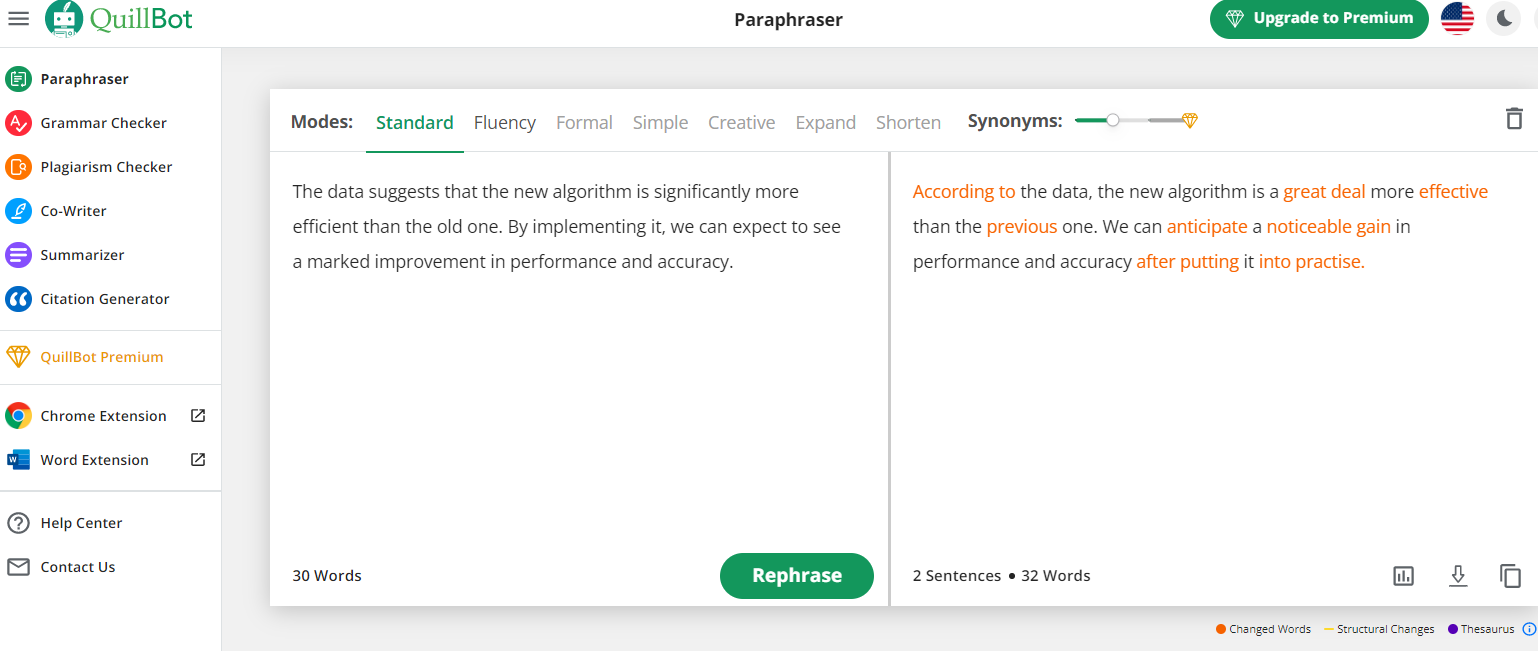 In addition, QuillBot includes an integrated plagiarism checker that helps you detect any copied text. All in all, it is a great tool for generating high-quality, unique content quickly and easily.
Copy.ai
Copy.ai does not have a tool dedicated solely to paraphrasing but it does have a powerful AI-driven Freestyle tool which pretty much does the same job.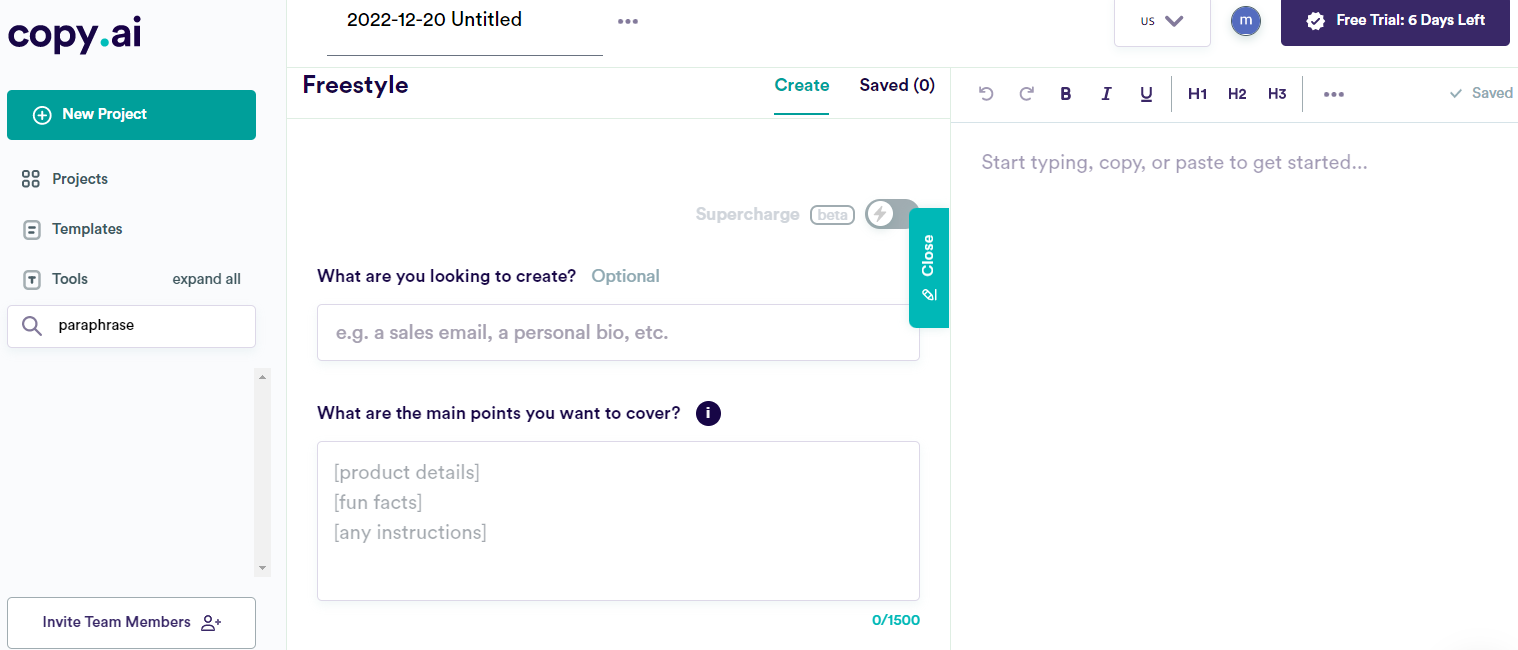 Paste the text in the second box and write what you want the output to look like in the first one.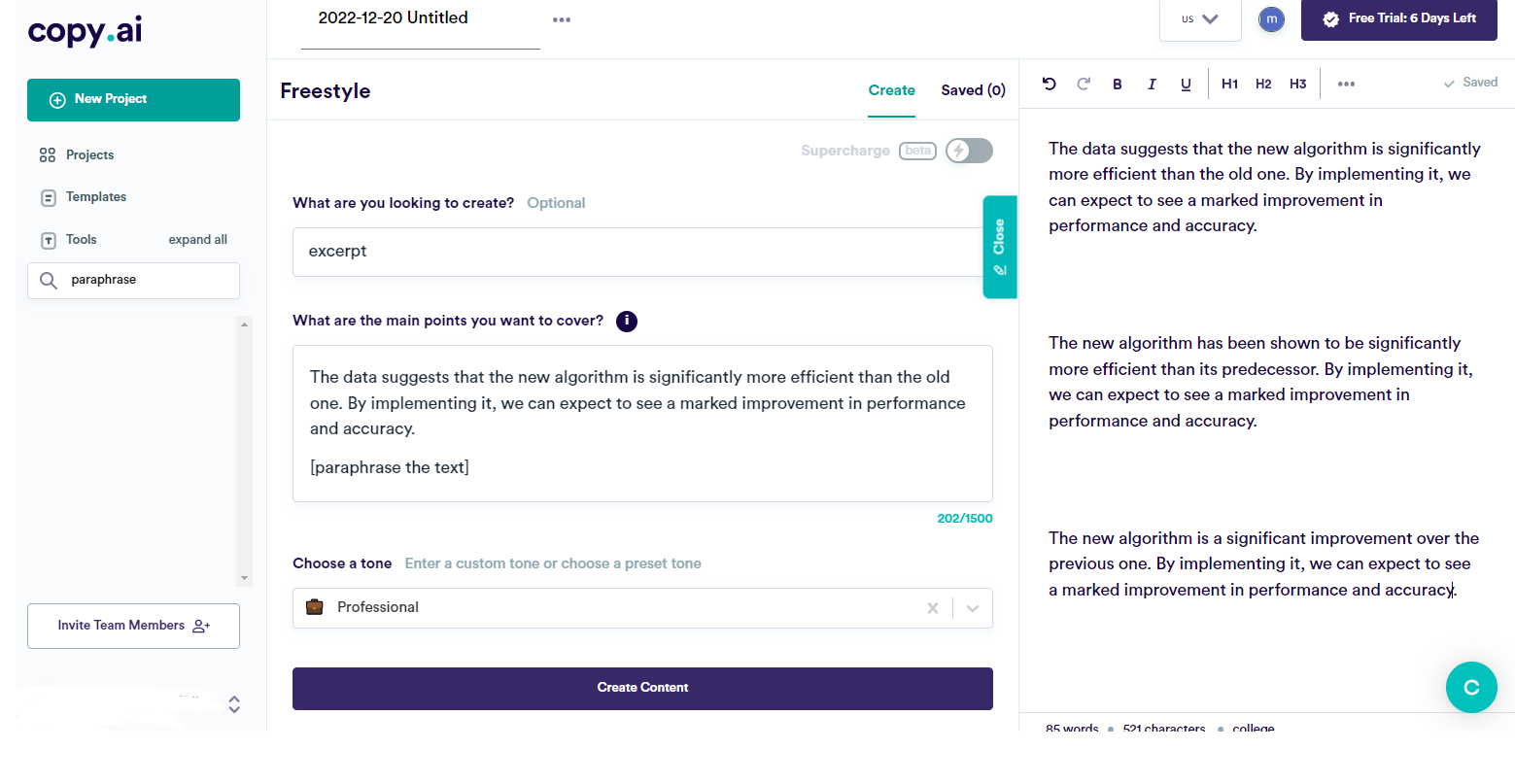 Unlike the alternatives, it gives you three different outputs and you can choose the one that best suits your needs. It also allows you to customize it and add synonyms of your own if needed.
The tool is very easy to use and supports text up to 1000 words.
Spinbot
Spinbot is a powerful and versatile AI-driven tool designed to help you quickly generate high-quality rewritten content. It allows you to input up to 10000 words. Although it does not offer many options like the other tools, this only makes the tool even easier to use.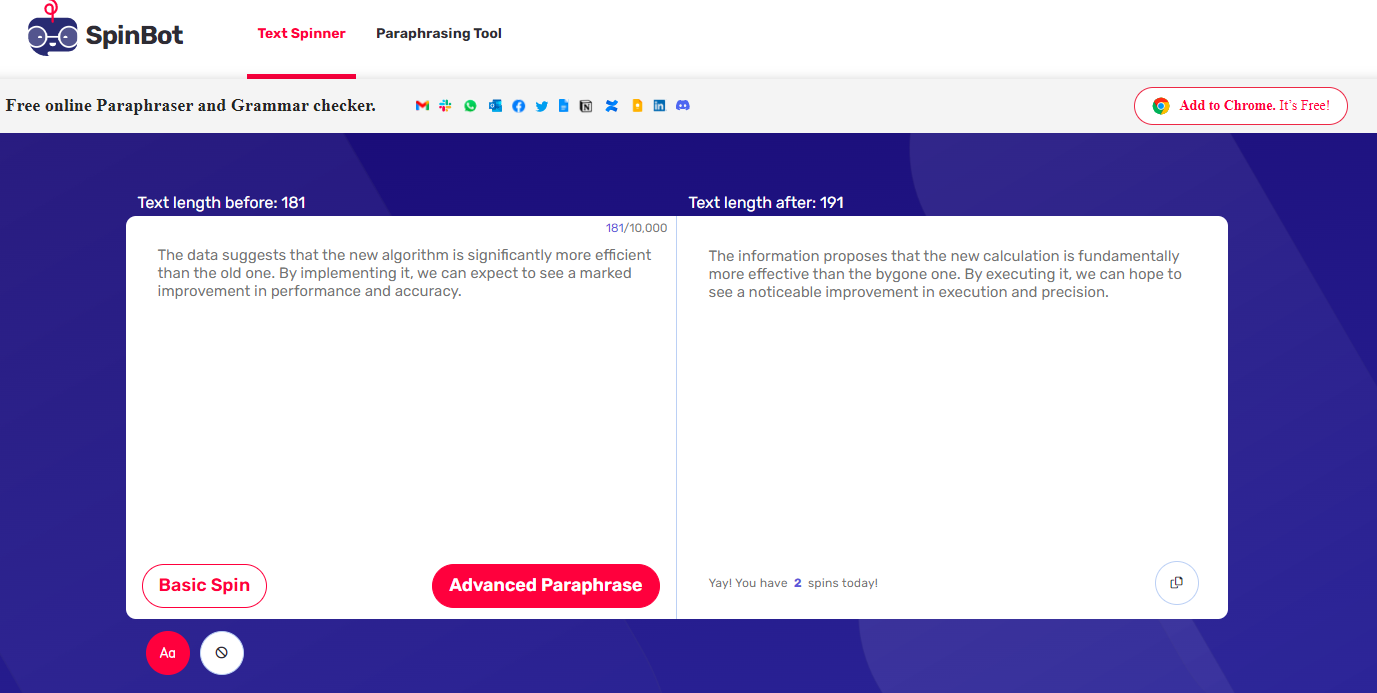 In addition to its easy-to-use interface, Spinbot features a unique option to change capitalized words only. This way you can also choose the words which you do not want to change. Spinbot is a great choice for anyone who wants to produce content quickly once in a while.
Paraphrase Online
Very different from Paraphrase online, Paraphrase Online is a simple web-based tool that is powered by an AI engine. It is the easiest to use of all as it does not have many features. Simply, paste the text and click on paraphrase.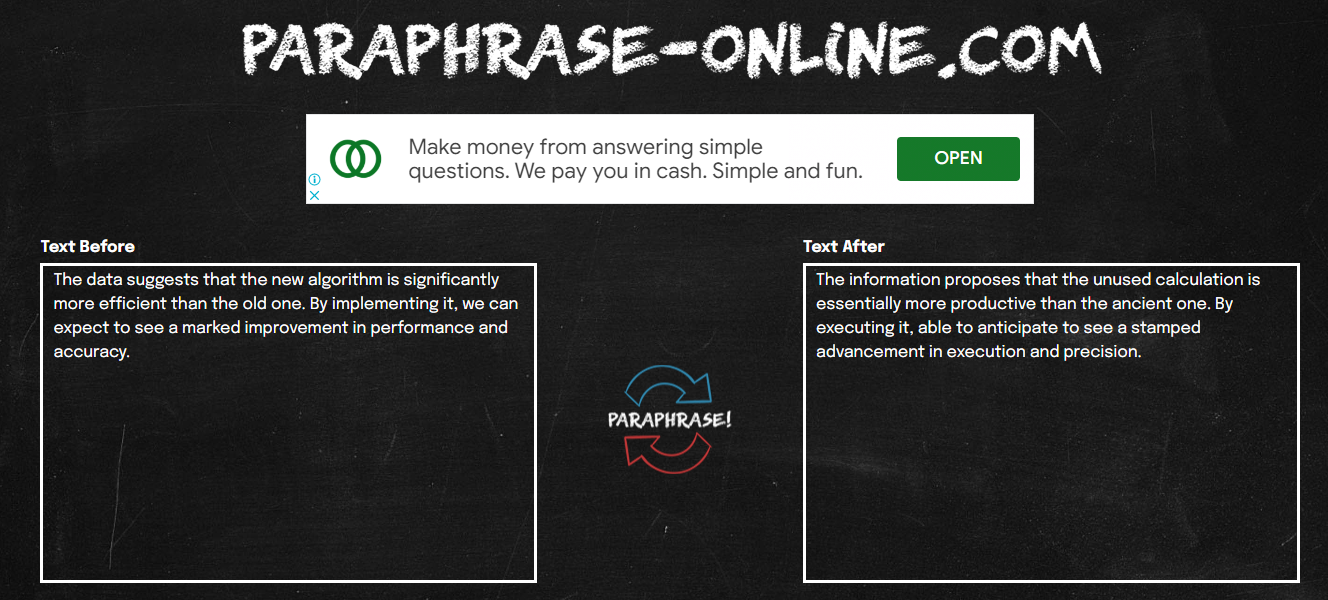 It works best if you have a short paragraph to work on as the input limit is only 1000 words. Still, the results are accurate and original.
What makes Yaara stand out?
Yaara.ai uses AI to not only find synonyms but also to understand the context and meaning of the text. This results in more natural and fluent paraphrases than other tools can provide. Additionally, it gives you more control over the final plagiarism-free output, as it offers a wider range of tones and styles to choose from. Finally, it has a built-in spell checker and punctuation corrector that helps you produce even more accurate results.
On the whole, Yaara is a great choice for anyone looking to quickly and easily generate high-quality paraphrased content with accurate meaning. It is the perfect tool for both professionals and casual users who want to get the work done without going through any trouble.
Try it out today and see for yourself!